Wristbands are the First Line of Defense against Never Events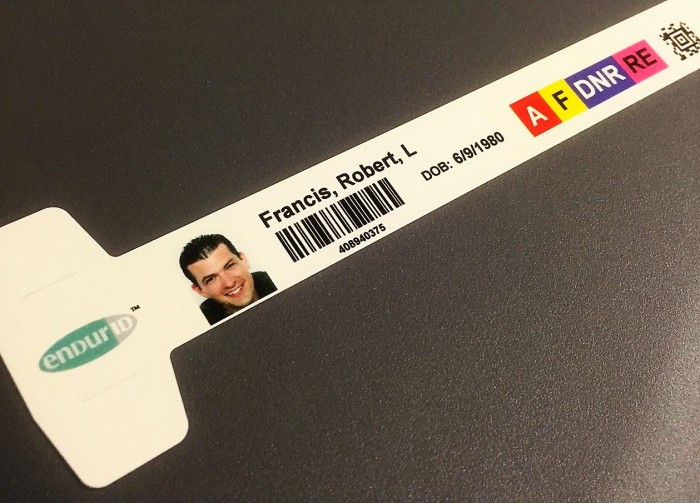 Most Americans would be shocked to learn that each year 9.5% of deaths each year (the third Leading cause),  are caused by medical errors  Within the hospital community these  events are referred to as Never Events, and Endur ID is doing their part to help minimize these occurrences.
A Never Event is defined as a set of circumstances that should never occur in a medical environment. According to the Agency for Healthcare Research and Quality, Never Events include, but are not limited to:
unintended retention of a foreign object in a patient after surgery or other procedure
patient death or serious injury associated with a medication error
surgery or other invasive procedure performed on the wrong body part or on the wrong patient
patient or staff death or serious injury associated with a burn incurred from any source in the course of a patient-care process in a healthcare setting
catheter-associated urinary tract infection
vascular catheter-associated infection
certain surgical-site infections
Never Events are often publicly reported which adds pressure for the medical facilities to improve their checks and balance systems.  It has been reported that miscommunication and or distraction are significant factors that lead to the occurrence of Never Events.
Every procedure or process in the medical setting is preceded by a check of a patient's identity. Fundamental to the process is knowing, without doubt, that the procedure will be performed on the correct individual.  Proper patient identification eliminates the possibility of the wrong individual receiving the treatment or medication. While identification cannot prevent every Never Event, it can reduce the possibility of one occurring in many cases.
Endur ID Patient Identification products bring this crucial information to bedside. The use of bands printed in color can supply Patient Demographics, account numbers with Bar Codes, Color Coded Alerts and warning for things like Allergies or Falls, and the bands can even provide the care giver a photo of the patient
The cost, both emotionally and financially of Never Events within a facility can be devastating to patients and staff alike.  Mistakes will always happen, but Never Events can certainly be lessened reduced by the use of these simple but straight forward technologies.
Information in this blog was obtained from…..
"Tooling up to prevent Never Events"
From the June 2016 issue of HealthCare Purchasing