Endur ID Joins the PointClickCare Marketplace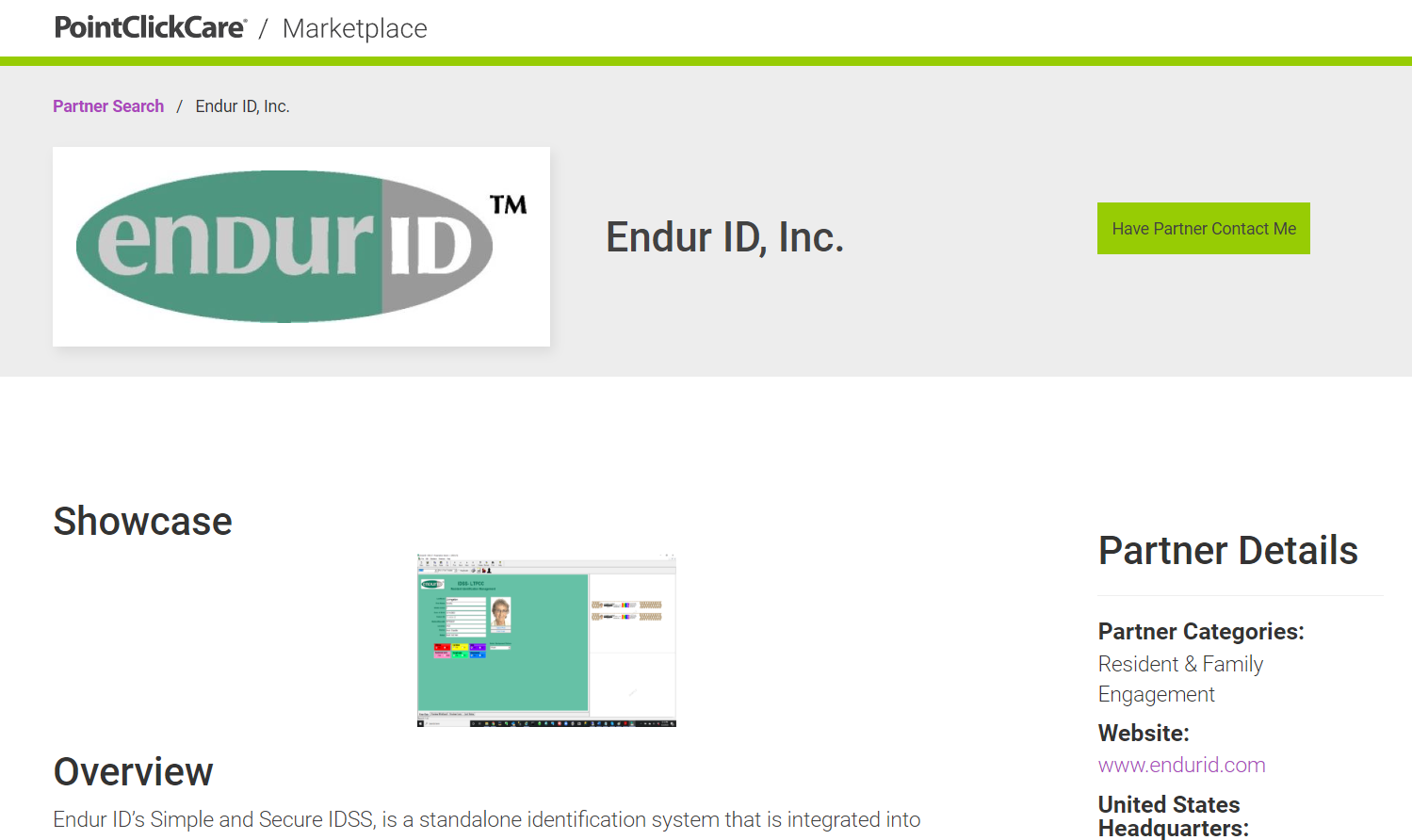 Endur ID, a trusted leader in identification and patient safety solutions, is proud to announce its partnership with PointClickCare, the leading cloud-based software vendor for the senior care market. As part of the partnership, Endur ID's standalone identification system, Simple and Secure IDSS-LT, will integrate with PointClickCare's core Electronic Health Record (EHR) platform and be listed as an integrated offering on the PointClickCare Marketplace.
"By becoming a Marketplace Partner, we are better positioned to reach new customers, and ultimately achieve our vision to provide staff and care givers a low cost means of positively identifying their residents and their unique and critical identification information," says Al Larose, CEO of Endur ID, Inc.
Endur ID's Simple and Secure IDSS system allows healthcare providers to create dynamic resident information wristbands. The system's features include bar coding, photos and color-coded warnings and alerts. As a result of the integration, customers using IDSS will be able to retrieve real-time patient information from PointClickCare, eliminating the need for duplicate data entry.
""The PointClickCare Marketplace offers one of the widest ranges of integrated solutions available to the market," Chris Beekman, marketplace director, PointClickCare. "Our partnership with Endur ID is testament to our continually growing partner network and ecosystem, and the wealth of possibilities it provides our customers to extend their technology capabilities."
Additional information regarding the integration can be found on the PointClickCare Marketplace – an online platform that enables customers to easily evaluate authorized third-party technology partners, as well as integrated apps and/or services that are designed to be quickly deployed and work seamlessly with providers' existing workflows.